Freshwater Aquarium Articles
If you are looking for the perfect fish to add to your community tank, consider corydoras catfish.
When it comes to cultivating a thriving community tank, the keyword is balance. You need to strike the right balance when it comes to your tank parameters to ensure that all of your fish will do well in the tank and you need to achieve the right balance in the number and type of fish you stock in your tank. One more thing you need to think about is balancing out the different levels of your tank – choosing your top-feeders, mid-range fish, and bottom feeders carefully will help you to achieve a thriving community tank.
Why are Corydoras Catfish Great for Community Tanks?


When it comes to the benefits of corydoras catfish for the community tank, there are many benefits to consider. For one thing, cory cats (as they are often known) are very peaceful fish – they are unlikely to cause any squabbles with other fish and they generally keep to themselves. In fact, cories are schooling fish so they tend to prefer being kept in groups and in community tank settings. Another important benefit of corydoras catfish is the fact that they are bottom feeders. These fish feed on things like leftover fish food, decaying plant matter, and other forms of detritus which helps to keep your community tank clean. Finally, cories are a bottom-dwelling species which means that they won't take up room or swimming space for your upper-level fish like gouramis, tetras, and danios. All in all, corydoras catfish seem to be the perfect community fish.
Background...
Your tank filter is perhaps the most important piece of equipment you have, so be sure to keep it clean as part of your routine maintenance schedule.
Any experienced aquarium hobbyist will tell you that your tank filter is one of the most important pieces of equipment for your tank. Depending on the type of filter you have, it is responsible not only for filtering out solid and dissolved waste products, but also for cultivating a colony of beneficial bacteria to help maintain the nitrogen cycle. Unfortunately, many aquarium hobbyist fail to clean and maintain their filters on a regular basis and this can lead to problems with water chemistry.
How Often Should You Clean It?


The chances are that you probably already have some kind of system or schedule in place when it comes to cleaning your aquarium. In addition to performing weekly water changes, you probably also perform a larger water change once a month and replace your filter media. But when do you clean your tank filter? Do you clean it at all? If you want to keep your tank clean and running properly, you need to include your aquarium filter in your routine cleaning schedule.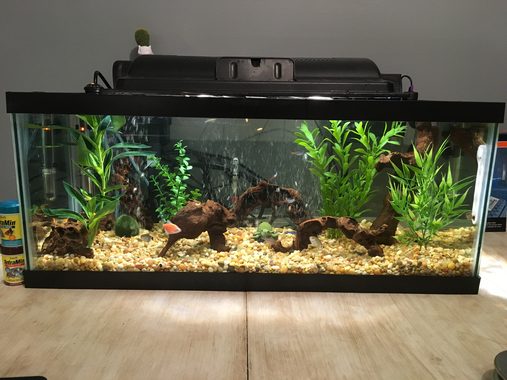 One thing you need to be very careful with when it comes to cleaning your tank filter is making sure not to clean it too thoroughly or too often. Aside from your tank substrate, your aquarium filter is probably the place where beneficial bacteria have accumulated the most. If you clean your filter too completely or too often, you could end up killing a significant portion of your tank's biological filtration system and that could...
Aquarium lighting systems come in all shapes and sizes - learn how to choose the right system for the tank size you have.
You could have the most beautifully decorated aquarium in the world but no one would know it if you didn't have an aquarium lighting system set up. Aquarium lighting is very important, yet many aquarium hobbyists overlook its importance. Not only can a quality lighting system help your tank look its best, but it plays a key role in maintaining plant life as well. When choosing your aquarium lighting system you need to consider a number of factors including your tank size.
Basics of Aquarium Lighting
Aquarium lighting systems come in a variety of shapes and sizes – some systems are better suited to certain kinds of tanks than others. For example, if you have a fish-only tank then your aquarium lighting system only serves the purpose of enhancing the appearance of your fish and your tank decorations. If you have a planted tank, however, your lighting system will perform this same function in addition to providing your live plants with the energy they need to facilitate the process of photosynthesis.
To help you understand which aquarium lighting system might be right for your tank, review the basics of each type of lighting system described below:
Standard Fluorescent – Once the most common type of aquarium lighting, standard fluorescents come in wattages between 15 and 40 with different size and color options. This is the type of lighting that is most often used in aquarium kits that come with a hood light. Standard fluorescents are inexpensive, easy to...
MOST RECENT ARTICLES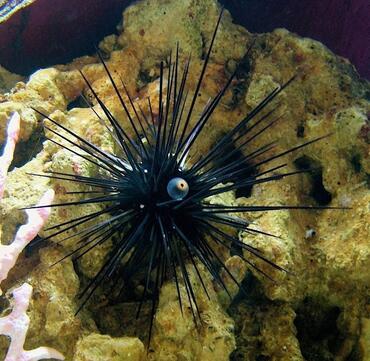 If you are looking for a unique invertebrate to add to your saltwater tank, consider the sea urchin.
Breeding aquarium fish can be tricky, but with the right tank setup and preparation it can be done.
Types of decorations.