Freshwater Aquarium Articles
Learn about the different types of filters for your freshwater aquarium.
Setting up an aquarium involves purchasing and installing a variety of pieces of equipment. Perhaps the most important piece of equipment for your entire aquarium, however, is your filtration system. Filters are essential for maintaining a clean and healthy environment for your fish which, in turn, is essential for keeping your fish healthy themselves. Without a filtration system for your water, it would almost be impossible to keep tropical fish as a pet. Filtration systems are that important!
Choosing a filtration system can be a daunting task because the sheer number of options to choose from can be overwhelming and become confusing. The fact that choosing the right filtration system is so important may also make the task more challenging – you certainly don't want to make the wrong choice! Before you select a filter, take the time to review your options and think about the specific needs of your tank. You should also take some time to learn about the different types of filtration that come into play in choosing an aquarium filter.
Types of Filtration
Mechanical Filtration – This filtration process simply removes debris and particles present in your water by passing the tank's water through foam or some other type of spongy material which traps the debris from entering back into your tank. The foam is replaced on a regular basis to prevent back-up and to maintain the effectiveness of your filtering system
Photo by Flickr user
Distar97

Biological Filtration – This is the most important filtration process for...
How to test your aquarium's water, and what to look for.
Maintaining good water quality is the single most important component in sustaining a thriving aquarium. It sounds simple to do, but most hobbyists quickly discover that maintaining high water quality is one of the most challenging aspects of the hobby. Water can have a wide array of chemical and mineral characteristics, especially when it comes out of your tap. In a nut shell, water is a chemical compound, and chemistry is not a simple science!
The Basics of Water Chemistry
The term "water chemistry" refers to the chemical properties of the water in your tank. These properties may include pH, general hardness, carbonate hardness and ammonia, nitrite and nitrate levels. All of these properties vary depending on where you get the water you use to fill your tank and how you treat it beforehand (if you treat it at all).
Most aquarium hobbyists use tap water to fill their aquarium. Unfortunately, tap water contains elements that can be harmful to fish. To remove these harmful elements it is necessary to cycle your water using a biological filtration system. Cycling your water means to have your water go through a biological process called the Nitrogen Cycle. The Nitrogen Cycle establishes bacteria in your water and filtration system that is beneficial to the overall health of your fish. This cycle can take anywhere from two weeks to two months to complete. Once the cycle is complete, the harmful elements of your tap water will have been removed by the bacteria established during the cycle, thus giving you good water quality...
Learn about common fish illnesses and how to effectively treat them.
Looking into your aquarium and seeing one of your fish ill for the first time can be alarming for many hobbyists. Unlike cats and dogs, you can't just hop in the car and take them to the vet. Moreover, because of the delicate nature of tropical fish, if not treated quickly, the illness may not only kill the infected fish, it could spread to the rest of the tank potentially harming your entire population.
So the obvious question for fish owners when their fish is infected is, "What illness does my fish have and how can I treat it?" The good news is that many of the most common aquarium fish diseases are treatable and if done properly, your fish has a good chance of survival. Moreover, many of the treatments are relatively simple to perform (and a lot cheaper than taking a cat or a dog to the vet).
It is important to note that there are many illnesses your fish can be afflicted with and it simply isn't possible to discuss them all here. Below you will find an outline of some of the most common diseases and illnesses, their symptoms and the best way to treat those illnesses.
Symptoms
: Visible white-green threads (worms) protruding from the fish's skin – points of attachment will show signs of redness and inflammation. Other symptoms may include rubbing against tank objects, difficulty breathing,...
MOST RECENT ARTICLES
The plecostomus is one of the most popular species of algae eater for the freshwater tank.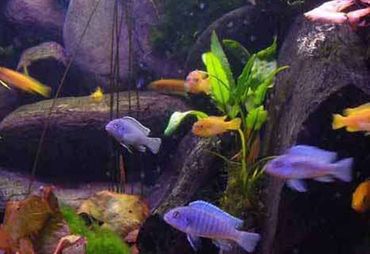 Nothing makes an aquarium stand out like a large shoal of colorful fish.
Also known as the mystery snail, apple snails are a popular addition to the freshwater tank.