Freshwater Aquarium Articles
Learn about the causes of cichlid aggression and methods for reducing it.
African cichlids are a favorite among aquarists due to their interesting behavior, relative ease of breeding for many species, and bright coloration. However, many cichlid aquariums end in disaster due to poor planning. Proper planning is required because many of the species native to the rift lakes of Africa are very aggressive. While this aggression can never be fully eliminated (and who would want to? – it is one of the things that make these fish so interesting), it can be reduced such that you do not come home one day to find half your tank wiped out.
The main methods used to reduce aggression include combining fish with similar size and temperament characteristics, combining fish with different coloration and patterns, appropriate feeding, combining fish that occupy different levels in the aquarium, providing enough horizontal space, providing adequate cover, sexing your cichlids, overstocking, and rearranging your aquarium.
Similar Size and Temperament
African cichlids can vary widely in their adult sizes. This is important to remember because most are sold as juveniles and they all look the same size at this stage in their lives. You need to do some research before you buy any species so you can make sure not to combine a species that will reach 10" with one that will reach 4". If you do not do the research, the 4" fish will become a snack.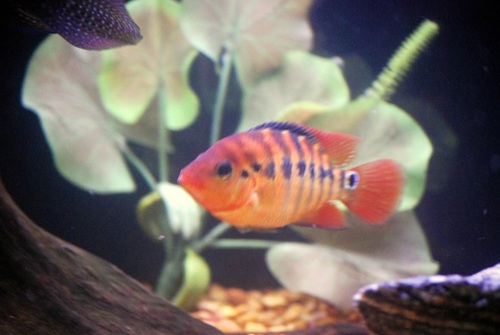 It is also important to ensure that the species are of similar temperaments. If you combine a highly aggressive...
Algae growth is an incredibly common problem with freshwater tanks. Read more to learn why it happens and how to control it.
If you have ever seen an aquarium covered in slimy or fuzzy green growths, you have seen algae. Algae is one of the most prevalent problems encountered in the aquarium hobby. Not only is algae overgrowth frustrating and difficult to deal with, but it can also destroy the appearance of your aquarium and interfere with the health of your fish and live plants. It is important to realize that algae growth can be controlled, however, if you know what to do. This article will discuss not only the causes of excess algae growth, but also some tips for how you can minimize it.

Before we discuss how to eradicate algae, it should be mentioned that some algae growth is perfectly normal in a healthy aquarium. You will never be able to completely stop algae from growing and as long as it doesn't become excessive, it does not harm your fish. Simply wipe off algae from places such as the front glass and it should take a week or two before you need to wipe it off again. If it is growing back within a couple of days, however, you should read the rest of this article and learn how to properly control your algae.
Causes of Algae Growth
If you want to eradicate algae from your aquarium, it is vital that you understand why it grows in the first place. Your only hope in preventing the regrowth of algae is to remedy the problems that caused the overgrowth in the...
Learn about the different types of filters for your freshwater aquarium.
Setting up an aquarium involves purchasing and installing a variety of pieces of equipment. Perhaps the most important piece of equipment for your entire aquarium, however, is your filtration system. Filters are essential for maintaining a clean and healthy environment for your fish which, in turn, is essential for keeping your fish healthy themselves. Without a filtration system for your water, it would almost be impossible to keep tropical fish as a pet. Filtration systems are that important!
Choosing a filtration system can be a daunting task because the sheer number of options to choose from can be overwhelming and become confusing. The fact that choosing the right filtration system is so important may also make the task more challenging – you certainly don't want to make the wrong choice! Before you select a filter, take the time to review your options and think about the specific needs of your tank. You should also take some time to learn about the different types of filtration that come into play in choosing an aquarium filter.
Types of Filtration
Mechanical Filtration – This filtration process simply removes debris and particles present in your water by passing the tank's water through foam or some other type of spongy material which traps the debris from entering back into your tank. The foam is replaced on a regular basis to prevent back-up and to maintain the effectiveness of your filtering system
Photo by Flickr user
Distar97

Biological Filtration – This is the most important filtration process for...
MOST RECENT ARTICLES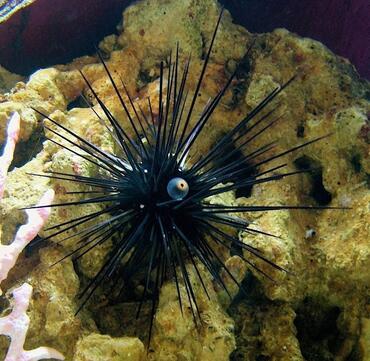 If you are looking for a unique invertebrate to add to your saltwater tank, consider the sea urchin.
Breeding aquarium fish can be tricky, but with the right tank setup and preparation it can be done.
Types of decorations.