Freshwater Aquarium Articles
If you're looking for some low-maintenance fish to add to your freshwater tank, consider some livebearers. Keep reading to learn more about them.
When it comes to stocking your tank – especially your first tank – it is easy to be overwhelmed by the sheer number of options available. There are literally thousands of different species of freshwater fish to choose from, though not all of them are readily available or recommended for the aquarium trade.
If you're looking for an easy way to stock your tank that will minimize your maintenance but maximize your value, consider stocking your tank with livebearers. Keep reading to learn more about what livebearers are, which species are the most popular, and how to keep them happy.
What Are Livebearers?
As you can probably guess from the name, livebearers are simply fish that give birth to live, free-swimming young instead of eggs. The name livebearer is used by the aquarium community to refer to a number of different species, most of which belong to the family Poeciliidae. The fish belonging to this family are typically found in the southern United States all the way through Mexico and Central America into various parts of South America. Livebearers generally reach a maximum size around 2 to 3 inches, though the exact details vary from one species to another, and they are generally peaceful in terms of their temperament. Livebearers make excellent community fish and they can tolerate a range of temperatures between 64°F and 82°F as well as a pH between 5.5 and 8.0.
What Are the Pros and Cons of Livebearers?
Now that you know a little...
There are many different types of aquarium algae and not all algae eaters will eat every type. Keep reading to learn how to choose the right algae eater based on the type of algae you have.
There is nothing worse than waking up to feed your fish and finding your entire tank covered in a layer of green. Algae is a common problem in freshwater aquariums but it is actually a fairly simple problem to solve. The more you understand what causes algae to grow, the better you can prevent it from happening. It will also help you to read up on algae-eating fish that can help you to keep your tank clean and algae-free.
Why Does Algae Grow in Home Aquariums?
Algae is a living thing and, as such, it requires certain nutrients to grow. There are many different types of algae out there, but they all have the same basic requirements. First and foremost, algae need water in order to thrive. Next, algae need plenty of light. Like any photosynthetic organism, algae use light as an energy source to fuel its growth. If you have live plants in your tank, you probably also have a pretty good lighting system and you probably leave it on for 8 to 12 hours a day. Too much lighting or lights left on for too long can lead to excess algae growth. This is a common problem in tanks that are placed too close to a window, even if the tank doesn't get direct sunlight.
In addition to light, algae also require certain nutrients in order to grow. The main nutrients algae needs are nitrogen, phosphorus, and potassium. These nutrients are abundant in most aquariums...
During the summer months, it may become more of a challenge to keep your aquarium temperature stable. Keep reading to learn more about tips for protecting your tank against high summer temperatures.
In the heat of summer, the temperature in your aquarium is likely to rise. This is particularly true if your aquarium is located near a window or in direct sunlight. While many fish can withstand minor fluctuations in tank temperature, very high water temperatures can be dangerous for some fish. If you struggle to keep your tank temperature down during the summer, you might want to rethink your plan and restock your tank with more high-temperature-tolerant fish.
In this article, you will learn about the ideal temperature range for an aquarium and receive tips for maintaining that temperature. You'll also find a list of aquarium fish that can survive higher tank temperatures.
What is the Ideal Temperature Range for an Aquarium?
Each species of fish has its own preferences for water temperature based on its natural habitat. Species that come from tropical climates tend to prefer warmer waters than fish that come from mountainous regions. For example, tropical reef species like tangs and wrasses prefer water temperatures in the 74°F to 78°F range while species like the White Cloud Mountain Minnow can survive temperatures between 64°F and 72°F, or lower. Most aquarium fish, however, prefer warmer waters in the range of 72°F to 78°F, sometimes up to 80%. In addition to knowing the right tank temperature, you also need to keep it stable – fluctuations in temperature can be stressful for your fish.
Most aquarium fish can withstand temperatures up to 80°F for a short period of time,...
MOST RECENT ARTICLES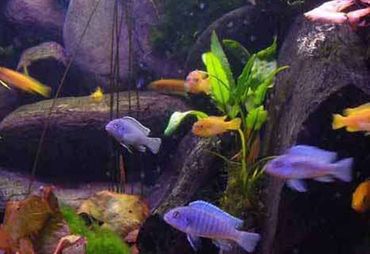 Nothing makes an aquarium stand out like a large shoal of colorful fish.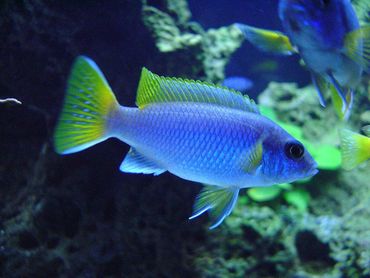 If you want to select a high-quality commercial food for your aquarium fish you should understand how to interpret a fish food label.
Also known as the mystery snail, apple snails are a popular addition to the freshwater tank.