Freshwater Aquarium Articles
Gouramis are some of the best community fish around because they are peaceful, hardy, and lovely to boot. Keep reading to learn more about breeding these wonderful fish.
Being an aquarium hobbyist comes with some challenges but it can also be incredibly rewarding, especially if you're able to successfully breed your fish. If you're looking for a type of aquarium fish that is compatible with other community species and relatively easy to breed in the home aquarium, consider gouramis as an option. There are many species to choose from and each of them is beautiful and unique in their own way.
What Are the Most Popular Species?
Gouramis are a family of fishes called Osphronemidae. They are a group of freshwater perciforms that are native to various parts of Asia ranging from Pakistan to Korea. These fish have laterally compressed bodies similar to cichlids and they are easy to identify by the elongated feeler-like ray they have on each one of their pelvic fins. There are currently about 133 species of gourami that have been recognized and they are divided among four subfamilies and 15 genera. Here are some of the most popular species for the home aquarium:
Gold Gourami – A color morph of the three-spot gourami, the gold gourami is known for its vibrant gold tones with rich striping. These fish grow up to 6 inches in length and can sometimes grow to be belligerent and territorial, though this behavior is usually limited to the males of the species. Like most gouramis, this species is omnivorous and requires a varied diet of live, fresh, and commercial foods.
Blue Gourami – Also a color variation of the blue-spot gourami, the...
If you're looking for some low-maintenance fish to add to your freshwater tank, consider some livebearers. Keep reading to learn more about them.
When it comes to stocking your tank – especially your first tank – it is easy to be overwhelmed by the sheer number of options available. There are literally thousands of different species of freshwater fish to choose from, though not all of them are readily available or recommended for the aquarium trade.
If you're looking for an easy way to stock your tank that will minimize your maintenance but maximize your value, consider stocking your tank with livebearers. Keep reading to learn more about what livebearers are, which species are the most popular, and how to keep them happy.
What Are Livebearers?
As you can probably guess from the name, livebearers are simply fish that give birth to live, free-swimming young instead of eggs. The name livebearer is used by the aquarium community to refer to a number of different species, most of which belong to the family Poeciliidae. The fish belonging to this family are typically found in the southern United States all the way through Mexico and Central America into various parts of South America. Livebearers generally reach a maximum size around 2 to 3 inches, though the exact details vary from one species to another, and they are generally peaceful in terms of their temperament. Livebearers make excellent community fish and they can tolerate a range of temperatures between 64°F and 82°F as well as a pH between 5.5 and 8.0.
What Are the Pros and Cons of Livebearers?
Now that you know a little...
There are many different types of aquarium algae and not all algae eaters will eat every type. Keep reading to learn how to choose the right algae eater based on the type of algae you have.
There is nothing worse than waking up to feed your fish and finding your entire tank covered in a layer of green. Algae is a common problem in freshwater aquariums but it is actually a fairly simple problem to solve. The more you understand what causes algae to grow, the better you can prevent it from happening. It will also help you to read up on algae-eating fish that can help you to keep your tank clean and algae-free.
Why Does Algae Grow in Home Aquariums?
Algae is a living thing and, as such, it requires certain nutrients to grow. There are many different types of algae out there, but they all have the same basic requirements. First and foremost, algae need water in order to thrive. Next, algae need plenty of light. Like any photosynthetic organism, algae use light as an energy source to fuel its growth. If you have live plants in your tank, you probably also have a pretty good lighting system and you probably leave it on for 8 to 12 hours a day. Too much lighting or lights left on for too long can lead to excess algae growth. This is a common problem in tanks that are placed too close to a window, even if the tank doesn't get direct sunlight.
In addition to light, algae also require certain nutrients in order to grow. The main nutrients algae needs are nitrogen, phosphorus, and potassium. These nutrients are abundant in most aquariums...
MOST RECENT ARTICLES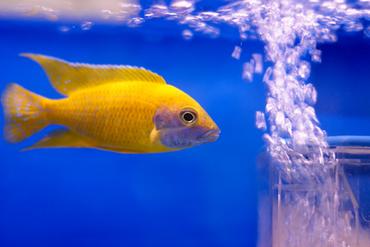 Modern advances in technology affect every industry - even the aquarium hobby.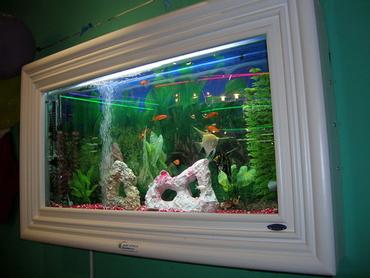 Advantages and disadvantages to a Wall Mounted Fish Tank.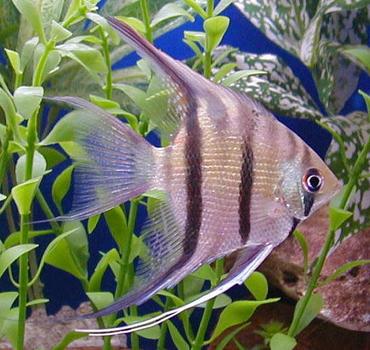 Cichlids are some of the most beautiful fish in the world, but they can also be the most aggressive.