Freshwater Aquarium Articles
Betta fish are some of the most colorful and vibrant freshwater aquarium fish around. Keep reading to learn about common betta diseases and how to handle them.
Also known as Siamese fighting fish, betta fish are a great choice for beginning aquarium hobbyists. Not only are these fish hardy and relatively easy to care for, but they are some of the most vibrantly colored freshwater fish out there. Like any species of aquarium fish, however, bettas require a certain degree of care and they are prone to certain diseases. Keep reading to learn what they are, how to treat them, and how to keep your betta from getting sick.
The Basics About Betta Fish Care
The Betta splendens is the most common species of betta kept in the home aquarium. These fish are known for their vibrant colors and, in males of the species, their beautiful fins. Bettas are selectively bred for many colors and patterns as well as different tail types. Though their fins can be very large, most betta only grow to about 2 ½ inches long in the body. With proper care, these fish can live about 3 years in captivity. Bettas are native to Asia so they require warm water in the 72°F to 82°F temperature range. They are also found in rice paddies and other areas of still water so they don't require a lot of water movement, but they still need high water quality like any fish.
Although bettas are often sold in small bowls, they need adequate swimming space as much as any other species. Bettas should be kept in a tank no smaller than 2 gallons...
Gouramis are some of the best community fish around because they are peaceful, hardy, and lovely to boot. Keep reading to learn more about breeding these wonderful fish.
Being an aquarium hobbyist comes with some challenges but it can also be incredibly rewarding, especially if you're able to successfully breed your fish. If you're looking for a type of aquarium fish that is compatible with other community species and relatively easy to breed in the home aquarium, consider gouramis as an option. There are many species to choose from and each of them is beautiful and unique in their own way.
What Are the Most Popular Species?
Gouramis are a family of fishes called Osphronemidae. They are a group of freshwater perciforms that are native to various parts of Asia ranging from Pakistan to Korea. These fish have laterally compressed bodies similar to cichlids and they are easy to identify by the elongated feeler-like ray they have on each one of their pelvic fins. There are currently about 133 species of gourami that have been recognized and they are divided among four subfamilies and 15 genera. Here are some of the most popular species for the home aquarium:
Gold Gourami – A color morph of the three-spot gourami, the gold gourami is known for its vibrant gold tones with rich striping. These fish grow up to 6 inches in length and can sometimes grow to be belligerent and territorial, though this behavior is usually limited to the males of the species. Like most gouramis, this species is omnivorous and requires a varied diet of live, fresh, and commercial foods.
Blue Gourami – Also a color variation of the blue-spot gourami, the...
If you're looking for some low-maintenance fish to add to your freshwater tank, consider some livebearers. Keep reading to learn more about them.
When it comes to stocking your tank – especially your first tank – it is easy to be overwhelmed by the sheer number of options available. There are literally thousands of different species of freshwater fish to choose from, though not all of them are readily available or recommended for the aquarium trade.
If you're looking for an easy way to stock your tank that will minimize your maintenance but maximize your value, consider stocking your tank with livebearers. Keep reading to learn more about what livebearers are, which species are the most popular, and how to keep them happy.
What Are Livebearers?
As you can probably guess from the name, livebearers are simply fish that give birth to live, free-swimming young instead of eggs. The name livebearer is used by the aquarium community to refer to a number of different species, most of which belong to the family Poeciliidae. The fish belonging to this family are typically found in the southern United States all the way through Mexico and Central America into various parts of South America. Livebearers generally reach a maximum size around 2 to 3 inches, though the exact details vary from one species to another, and they are generally peaceful in terms of their temperament. Livebearers make excellent community fish and they can tolerate a range of temperatures between 64°F and 82°F as well as a pH between 5.5 and 8.0.
What Are the Pros and Cons of Livebearers?
Now that you know a little...
MOST RECENT ARTICLES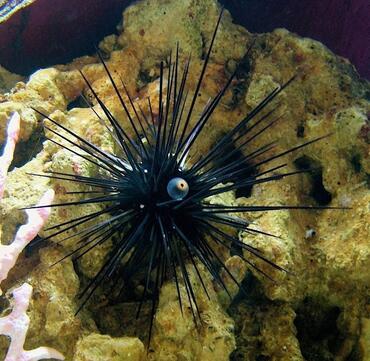 If you are looking for a unique invertebrate to add to your saltwater tank, consider the sea urchin.
Breeding aquarium fish can be tricky, but with the right tank setup and preparation it can be done.
Types of decorations.