Freshwater Aquarium Articles
Live plants can completely transform the look of your aquarium. Keep reading to learn some simple tricks for rooting and anchoring live plants as well as some tips for pruning and propagation.
Live plants can completely transform the look of your aquarium. As realistic as some artificial plants may look, nothing compares to the real thing. Plus, live plants come with the added bonus of producing valuable oxygen for your fish.
A lushly planted tank is a sight to behold, but it does take a fair amount of work to get there. In addition to choosing the right kind of substrate for your planted tank, you also need to decide where you want to put your plants and how to keep them there. Some fish have a penchant for uprooting live plants and other factors such as strong current can make it a challenge to keep your plants where you want them.
Keep reading to learn some simple tricks for rooting and anchoring live plants as well as some tips for pruning and propagation.
Understanding the Different Types of Aquarium Plants
When you first start shopping around for live aquarium plants, you'll find that they are sold in several different ways. Popular options like Amazon sword, crypts, crinums, and hair grass are typically sold in small pots. Rhizomatous plants like anubias and java fern are typically sold by the rhizome, also known as the rootstalk or subterranean stem from which roots and leaf nodes grow. Other plants like mosses and stem plants may be sold by the stem or in bunches.
Each of the different kinds of live aquarium plant needs to be treated differently when it comes to placing them in your tank. While floating...
Everyone knows that guppies are some of the most colorful freshwater fish while also being some of the easiest to care for. But what other colorful fish can you keep in a show tank with guppies? Keep reading to find out.
The fancy guppy is a popular beginner fish because they are small, hardy, and easy to care for. More than that, however, they exhibit bright colors, long fins, and unique patterns. Not only are fancy guppies a beautiful species to cultivate, but they are different from most brightly colored species in that they are very peaceful – they make great additions to the community tank.
When cultivating a guppy tank, you should think carefully when selecting your tankmates. Not only should you think about compatibility in terms of temperament, but you also want to choose species that will enhance rather than detract from the beautiful colors seen in your guppies. Keep reading to learn about the top tankmates for a show tank of fancy guppies.
Ten Colorful Tank Mates for Guppies
Most small to medium-sized community fish would make a compatible tankmate for guppies, but if you want to create a show-stopping tank you need to choose your fish carefully. For a colorful show tank, consider the following ten tankmates for your guppies:
Rummynose Tetra – These fish are named for their bright red noses. Rummynose tetras grow up to 2 inches in length and their silver coloration will help your guppies to stand out. These fish are generally very peaceful and they do well in community tanks, particularly when kept with six or more of their own species.
Female Betta – Though male betta fish should not be kept with other fish, females are much less aggressive. Don't...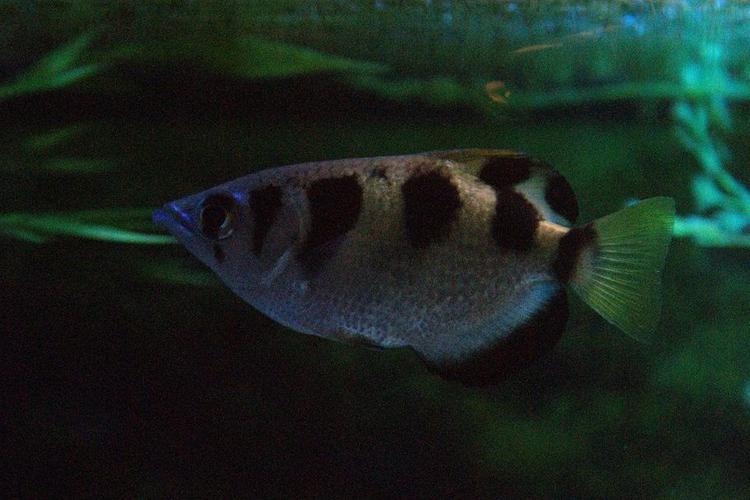 Looking for a unique species to add to your tank? Consider the archerfish, a fish with the ability to shoot bugs off of branches with a stream of water.
Aquarium fish come in all shapes, sizes, and colors. While many fish set themselves apart from the rest of the pack by their appearance, the archerfish is unique in a different way. These brackish water fish can actually shoot water from their mouths to knock insects off overhanging leaves or branches into the water. Keep reading to learn more about these fascinating fish!
Basic Information About Archerfish
Also known as spinner fish, archerfish are a small family of seven species belonging to the genus Toxotes. There are several things which set this group of fish apart from other aquarium fish. First, they are a brackish species – they typically inhabit estuaries and mangrove swamps. They can, however, be found in the open ocean or far upstream in fresh water. These fish are native to various parts of India as well as Indonesia, Sri Lanka, Australia, Polynesia, and the Philippines.
The second thing that sets archerfish apart is their ability to shoot water droplets from their mouths to knock insects of low-hanging leaves and branches above the water. According to an article published in National Geographic, archerfish exhibit this behvaior with stunning accuracy and the strength of the jet is so powerful that, if it were to hit you, you'd feel like you'd been stung by an insect. In order to shoot water with the force and accuracy needed, archerfish actually change the shape of their mouths, adjusting it to hone in on their target as they spray,...
MOST RECENT ARTICLES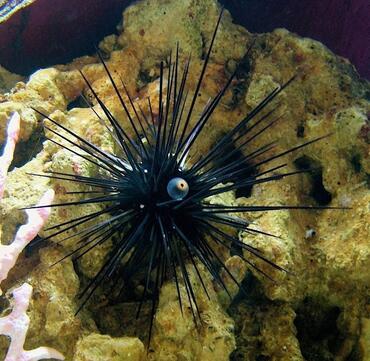 If you are looking for a unique invertebrate to add to your saltwater tank, consider the sea urchin.
Breeding aquarium fish can be tricky, but with the right tank setup and preparation it can be done.
Types of decorations.