Freshwater Aquarium Articles
The betta fish is an incredibly popular species that has a reputation for being aggressive. In this article you will learn whether or not you can keep other fish with your betta.
If you know anything about the aquarium hobby you are probably familiar with the betta fish, more commonly known as the Siamese fighting fish. These fish are known for their bright colors and long, flowing fins. They are also known for something else – for fighting to the death with other betta fish if they are kept in the same tank.
You have probably heard that it is never a good idea to keep two betta fish in a tank together – especially if they are both male. But can you keep other fish with your betta? In this article you will learn the basics about betta fish including tips for keeping them with other species.
Basics About Betta Fish


The betta fish is known by the scientific name Betta splendens and it belongs to the same family as the gourami. These fish are native to various parts of Asia including Laos, Cambodia, Thailand and Vietnam where they can be found living in the standing water habitats of rice patties, floodplains, and canals. This species has been selectively bred to create a wide variety of bright colors and patterns, not to mention unique tail shapes. These are the features that make the betta such a popular species.
Betta fish typically grow to about 3 inches in length, though their fins and tails can be much longer. In the wild, the betta fish exhibits a dull gray, brown, or green coloration which is extremely different from the bright colors seen in the captive betta...
The blind cave tetra is unique among freshwater aquarium fish. Learn all about its care and keeping in this informative article.
When it comes to stocking your freshwater aquarium you have a nearly unlimited number of options to choose from. So how do you go about selecting which species you want to keep in your tank? Some aquarium hobbyists choose based on the appearance of the fish or their tank requirements. If you are looking for a freshwater species that is truly unique and challenging to keep, consider the blind cave tetra.
Basics About the Species


The blind cave tetra is known by the scientific name Astyanax mexicanus and there are two subspecies. One form of the species is widely distributed throughout the southern United States, Mexico and into Guatemala while the other is found only in Mexico. The main difference between the two subspecies is that one is blind and the other is not. The two subspecies also live in entirely different habitats – one dwells only in underground caves while the other is a surface-dwelling species that lives in fast-flowing streams and rivers as well as ponds and lakes.
The Astyanax mexicanus species is also known as the Mexican tetra and that is the common name the surface-dwelling form of the species takes. The other subspecies, known as the blind cave tetra, is in fact blind. While the surface-dwelling form of the species looks like any other tetra with a shiny silver body and red coloring on the fins, the blind form exhibits albino coloration (a lack of pigment) and clear fins. The most notable physical difference between the two, however,...
Nothing makes an aquarium stand out like a large shoal of colorful fish. In this article you will receive tips for cultivating shoaling species in the freshwater tank.
If you are thinking about starting a new aquarium or simply need some ideas for stocking an existing aquarium, consider choosing a shoaling species. Nothing is more beautiful than a large group of colorful freshwater fish swimming in unison in the community tank. The beauty of shoaling fish is that while they do swim in groups, they still retain their own individual identities.
Keeping shoaling fish in the home aquarium can be a challenge because some shoaling fish do not get along with other species. It can also be challenging to maintain the health and nutrition of such a large group of fish. If you are thinking about adding shoaling species to your tank, take the time to learn everything you can about them before you begin.
Shoaling vs. Schooling

Before getting into the details about species of shoaling fish, you should be able to tell the difference between a shoaling species and a schooling species. When you see a large group of fish swimming in one direction, you probably assume that they are schooling. In fact, shoaling is very similar to schooling but there are some key differences. According to the popular definition, groups of fish that swim together for social reasons are said to be shoaling while fish swimming in the same direction in a coordinated manner are said to be schooling. In the wild, both shoaling and schooling behavior can be a defense mechanism used against predators. A large group of fish moving in one direction might appear...
MOST RECENT ARTICLES
The plecostomus is one of the most popular species of algae eater for the freshwater tank.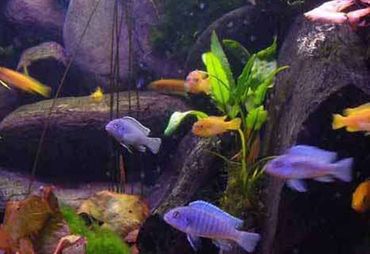 Nothing makes an aquarium stand out like a large shoal of colorful fish.
Also known as the mystery snail, apple snails are a popular addition to the freshwater tank.