State: None/Other
Country:
Belgium
MORE INFO
Photo Caption
Amphiprion ocellaris-Zebrasoma flavescens
Description
- 3x58W T8 tubes (1 supra actinic) - H&S A150F2001 skimmer - Aqua medic nitratreductor 400 - 2 Koralia 4 - 1 Koralia 3 - 2 Maxi jet with gulf stream kit - UV filter (5watts) - 1 external filter Tetratec Ex 700 - internal biologic filter - 2 pumps powerhead 402
Fish Kept
2 Zebrasoma Flavescens 2 Amphiprion Ocellaris 1 Gramma Loretto 1 Apogon Kaudermi 1 Anthias Squampinnis 2 Chromis Viridis 4 Pagures 1 Neocirrhites Armatus 1 Acanthurus Japonicus 1 Centropyge Loriculus
Quote
Rien ne sert de courrir
Yourself
I began my hobby with a friend
MOST RECENT ARTICLES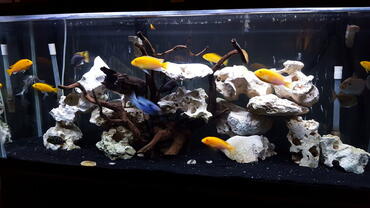 Building a beautiful saltwater tank landscape out of rock is a challenge but with some helpful tips you can make it work.
Many tetras are known for their small size and peaceful nature, but there are some larger tetras that can be a good choice for the community tank.
Tangs are not just some of the most brightly colored species of tropical saltwater fish - they are also great additions to the reef tank.