All Time Top 10 Reef Tanks
Description:
37 Gallon Oceanic Show Cube, 2x65w PC lighting, SCWD closed loop w/mag 750, Remora HOB skimmer, Aquaclear 500 converted to Refugium. No sump.
Quote:
"The longer I wait, the more I learn and the more $$ I save." "Por que la leche queste mas, que los huevos...."
Fish Kept:
2 Black missbars 1 flame hawk 1 small YT
Corals/Plants Kept:
Mixed
Description:
Mojo's 65 RR MH+T5
Fish Kept:
school of six yellow tangs, blue (hippo) tang, Koles tang, mandarin, 4 chromis, blue devil damsel, pair fire clowns, royal dottyback, coral banded shrimp
Corals/Plants Kept:
Various, predominantly softies
Advice:
Ask heaps of questions and visit plenty of tanks
Description:
Full tank shot, the stand still needs to be enclosed and a canopy put on top - one day it'll happen
Description:
this is my fish tank with lighting
Advice:
Be patient, that's the key!;-)
Description:
125 gal reef tank
Quote:
These snozberries taste like snozberries
About Yourself:
I have been doing this for many years and this tank was moved to kansas from California about 7 months ago
Fish Kept:
In the tank: 3 yellow tangs, 3 azure damsels, 3 neon gobies, 2 scooter blennies, and a bangaii cardinal
Corals/Plants Kept:
SPS, LPS, Softies, Zoos, Clams, Anemones
Advice:
Dont start off small!
Description:
My 90 gallon reef!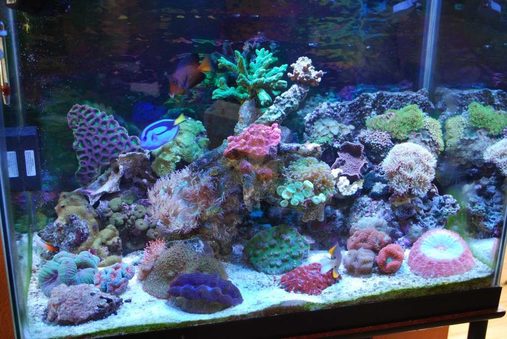 About Yourself:
im 23 love the hobby working on my big tank project but this keeps me happy till then
Fish Kept:
blue hippo tang flame fin tang juvenile chevron tang 3"juvenile golden spotted eal fire fish
Corals/Plants Kept:
prizm favia about 30+eyes/mouths "true" montipora undata blastos multiple types mycedium 2 plobos 1 aussie elegance green with purple tips rigida hydnopora duncan 23 heads mushrooms multiple types candy cane frogspawn fox coral and probably a few more
Description:
most recent tank shot
Corals/Plants Kept:
Gorgonians, Finger Sponge, Trumpet Coral, Zoolanthids, Mushrooms, and Bubble tip anemone, and lots of Rock Flower Anemones (that keep multiplying)
Advice:
Read everything you can before you start or the learning curve will kick your butt, oh and don\\\'t skip water changes.
Description:
My 23 gallon flat back hexagonal reef tank.
Quote:
Live today - worry about tomorrow - tomorrow
About Yourself:
Needed a hobby to keep me out of trouble - this sure did the trick - Im now either working on the tank or sitting down to enjoy it - I havent had my TV on in months
Fish Kept:
(2) FoxFace - (3) Yellow Tangs - (1) Blue Hippo Tang - (2) Naso Tangs ( 1 is 13 inch Male with streamers) - (2) Tomato Clowns - (1) Vlamingi Tang - (4) cleaner Shrimp - (2) Fire Shrimp - (1) horseshoe crab - (3) Flame Scallops - and about 150 different snails and hermit crabs
Corals/Plants Kept:
Mostly Leather - Devils hand - Yellow Finger leather - Pink Finger Leather - 4 different variations of the toadstool - green flower pot - white flower pot - purple colt - white colt - maroon colt - orange sponges - cup coral - brains - cabbage coral - star polyps - zoos - (2) Bubble anenomes
Advice:
I read a book and decided to do Fish only because everything I read made coral and reef systems sound so hard and impossible - the fish only went so smooth I decided to turn it into a reef system - Im glad I did -Read but dont take it all to heart - you can ask 100 reef tank keepers the same question and get 90 different answers - You have to take it on your own and figure out what works best - there will be errors - but in the long run it will pay off - and you will fall in love with it.
Description:
150 Gallon Reef Tank
Fish Kept:
1 regal tang,3 yellow tangs,1 powder blue tang,2 blue damsels,2 clown fish 1 goby
Corals/Plants Kept:
alot of soft corals,love leathers and toadstools.zoanthids
Advice:
take it slow,youll have time to buy later,be patient let tank really cycle good.
Description:
75 gallon new background
All Time Top Ten Tanks
2016 Top Ten Tanks
2015 Top Ten Tanks
2014 Top Ten Tanks
2013 Top Ten Tanks
2012 Top Ten Tanks
2011 Top Ten Tanks
2010 Top Ten Tanks
2009 Top Ten Tanks
2008 Top Ten Tanks
2007 Top Ten Tanks
2006 Top Ten Tanks
TetraMin, the original tropical flake food, now comes with an enhanced formulation and easy-to-use sliding dispenser lid. TetraMin remains the world's No. 1 fish food. Visit http://www.tetramin.com.
Get listed here - contact us